The working group Global Oncology at the University Hospital of Bonn, led by Dr. med. Oliver Henke, focuses on the issues of cancer treatment, cancer prevention, and palliative care in low-and middle-income countries, with an emphasis on the African continent.,  

The countries in the Global South are affected by significantly higher mortality from cancer compared to the North. This has multiple reasons such as insufficient access to therapy, a lack of primary and secondary prevention, as well as the trust in traditional healers and spiritual healing. Usually, this leads to cancer being diagnosed in an advanced stage of the disease, which complicates therapy and oftentimes, makes curative therapy impossible. Moreover, patients diagnosed with cancer are generally younger than in countries with higher income. Being still young and part of the working population, this negatively effects the economy. Lack of or gaps in health insurance often bring families to the brink when a family member develops cancer, which can result in poverty for the entire family.
The working group Global Oncology focuses on the Public Health aspects of cancer in these countries. Innovative projects for early diagnostics as well as projects for financing palliative care, scientific education of medical staff and easy access to cancer therapy are the group's main focuses. 
Dr. Oliver Henke, MSc
Dr. Michael Ludwig
Dr. Jakob von Herder
Eva Kuhn, Mag.theol.
Anna Minarik, BSc
Clara Markiewicz
Kofi Acheampong
Contact
globaloncology -at- ukbonn.de
Ongoing Projects
INUKA Palliative Care Project – Implementation and Cost Effectiveness of Home Based Palliative Care in Northern Tanzania
Can-START –

Can

cer

Sta

ging and early

R

eferral for

T

reatment
GIZ-funded Hospital Partnership between Marangu Lutheran Hospital, Tanzania and University Hospital Bonn, Germany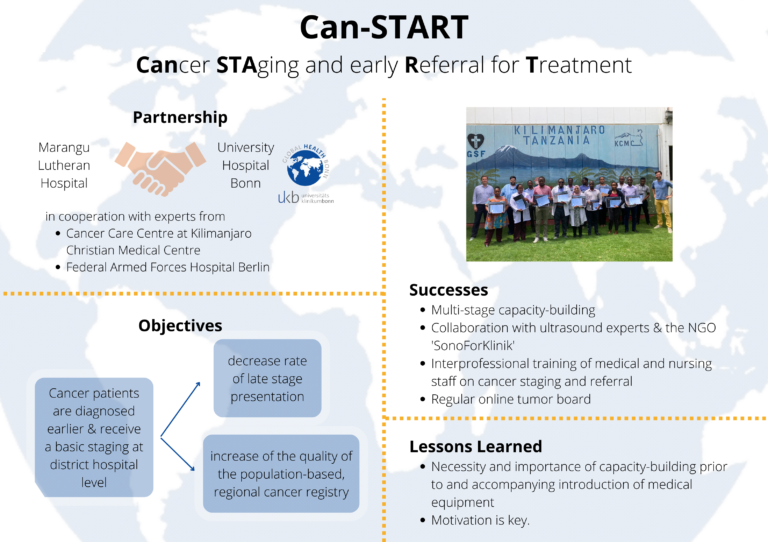 Thesis Supervision
A needs assessment & gap analysis of radiotherapy services among breast and prostate cancer patients in Tanzania, Africa
Master thesis by Dr. med. Sabine Tschirner within the MSc Global Health studies | 2022
supervisor: Dr. med. Oliver Henke
E-Mail: master.globalhealth@ukbonn.de
Landline phone: +49 (0) 228 287 10317
You find us in Building 66 (Gebäude 66) on the Venusberg-Campus.
For a map of the campus click here.
Postal Address:
Section Global Health
Institute of Hygiene and Public Health
Venusberg-Campus 1
D-53127 Bonn